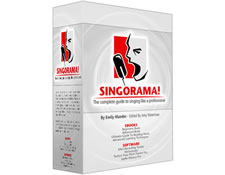 Singorama
Rating: (Editor's Choice for Downloadable Voice Lessons)
Published By: Rock Star Recipes, Emily Mander
Website: www.Singorama.com
Pricing: $99.95
For Skill Levels: Beginner-Intermediate
Official Website
If you are looking for a singing course online that you can download, you'll probably want to check out Singorama 2.0, which has become one of the more popular singing courses currently available on the internet.
Singorama uses both audio and interactive ebook material to teach you what you need to know about singing. The audio lessons are professionally recorded and narrated, and the ebooks help reinforce key concepts. As an added bonus, Singorama includes come rather cool and complementary software and tools that help keep the learning fun and engaging.
Singorama is a great choice for those that want to greatly improve their singing ability even if they are completely new to singing and music. It's also our top choice for a complete singing lesson course for under $100.
Features
Once you purchase a Singorama membership, you'll gain access to their members area where you can download the Singorama course material whenever you wish.
The main component of Singorama's voice course are the 28 audio lessons, which cover the many aspects of singing such as how to get started as a singer, vocal techniques and exercises, key signatures, how to read music, rhythm and intervals, and how to sing different singing styles.
Singorama also has various exercises you can download. These include vocal warm ups, range extension exercises, interval training exercises, voice strengthening exercises, and a relaxation exercise.

Singorama also comes with some pretty cool software to aid you with you singing. The software can be installed via a single installer, which is nice. Here is a rundown of the bonus software.
Singorama Metronome - Simple, no frills, metronome software.

Jayde Musica Pro - A game that teaches how to read music and identify notes by ear. Not a bad music learning game and makes for a good diversion.

Perfect Your Pitch Trainer Pro - Another game teaches musical pitch.

Singorama Mini Recording Studio - Don't get overly excited about this bonus. While it does have a couple features that your basic Windows® recording software may not, it doesn't replace any proper full-featured recording software you'll find in the market.
Another neat feature of Singorama is they've created three original songs for you to learn to sing with. You can learn melody and harmony and sing along with backing tracks they've provided.

It is worth noting that this course would take a excessively long time to download for internet dial-up users. For such users, take a look at Brett Manning's Singing Success, which is a actual shipped course. One nit-pick we did have with the course is that the makers of Singorama could have done a better job of compressing their audio. After downloading the entire course to our computer, it totaled 1.3GB of content! With proper compression the course's downloadable size could have been reduced by at least 75%. It's also too bad that you have to download virtually all of the singing lesson material individually. Of course, the files would then be really huge, but at least there would be less of them.
Guarantee/Support
The Singorama singing course is backed by an unconditional 8 week money-back guarantee provided by their 3rd party payment processor.
Singorama has email customer support as well as a comprehensive FAQ section on their website that will cover most of your questions.
Ease of Use
Singorama is compatible with Windows PCs, though to run the bonus software, you may have to make sure you have sufficiently updated your operating system. Take a peek at Singorama's FAQs for more information.
For those running Macs, you'll be happy to know they have a separate version of Singorama just for you. However, take note the software may need to you to run OS 9.2 or OSX in classic mode for some of the software to function properly.
Conclusion
With the price of Singorama being half of what Singing Success goes for, Singorama definitely has appeal. Singorama is our pick for being the best PC-based singing course available for $100 or less.
Official Website
More Voice Lessons
Disclaimer Notice: We are an independent product review site and take great pride in the integrity or our reviews. In the interest of full disclosure we want our readers to be know that we do receive review copies of all lessons and software that we review on this site. We do also receive financial compensation in the form of commission on some, though not all products talked about on this site. Please note that we do not allow this to interfere with our editorial process.
Also, we should point out that we do not accept paid reviews in any way in order to keep an unbiased viewpoint. Lastly, we don't have any personal interest in the products we review, nor are we owned by any company whose products appear on this site. Thank-you for reading!