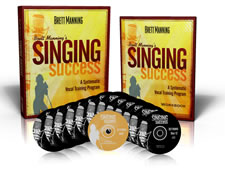 Singing Success
Rating: (Editor's Choice for Audio CD Voice Lessons)
Published By: Singing Success, Brett Manning
Website: www.SingingSuccess.com
Pricing: $199.00
For Skill Levels: Beginner-Advanced
Official Website
Developed by the world-renowned vocal training coach Brett Manning, Singing Success is one of the most complete and comprehensive singing lesson packages on the internet today.
Brett Manning has an impressive resume. He has worked with a wide array of artists from many large singing labels such as Epic/Sony, Dreamworks, KMG, Lyrics Street, and Columbia. Many of Brett Manning's clients have won the world's most coveted vocal awards including the Grammies, the CMA Awards, as well as the Doves. When you visit their site, you'll recognized quite a few of the many recording artists that have had Brett as their coach. You can also find different testimonials by big names in the music industry that personally recommend Brett Manning's teaching method.
Singing Success is available as either a physical shipped course or a downloadable singing course. Since the price is only a few dollars more for the physical version as you don't pay for shipping with the download version, we definitely recommend the physical version for the added flexibility the CD audio format provides.
Screenshots
Screenshots of the introductory Singing Success DVD.
Features
The Singing Success course covers everything that regular voice lessons include and more! Exceptional value, lessons you can take at your own pace, professional and cutting edge lesson material add up to a course that's too good to miss.
Singing Success ships in a binder that contains the 12 audio CDs and 1 instructional DVD. The "meat and potatoes" of the course are the comprehensive audio-based lessons which are intended to be listened to in successive order. Also packaged with Singing Success is a short, supplemental DVD which provides an overview of the course. We've included a couple screeenshots of above.
The audio quality of the Singing Success CDs is exceptional. One huge plus is the audio tracks are named according to each lesson, which makes it very easy to navigate from lesson to lesson. Inside of the binder there's also an insert that has has the entire table of contents for the audio CDs, which comes in handy.
Female singers out there will be pleased to know that most of the lesson and exercise examples have male and female demonstrations.
Brett Manning has a very friendly teaching style and is a pleasure to listen to. He is very thorough and explains what he does in a easy to understand manner.
Guarantee/Support
Singing Success the only music course that we've ever seen that guarantees a full octave increase in your vocal range or your money back! With a performance-based product guarantee like that, Singing Success ensures significant improvement or you'll pay nothing! (except return shipping which we assume isn't part of the guarantee)
The staff and customer service people are very friendly and great to talk to. You can contact them either via email or phone. Also amongst the support options available to Singing Success customers are Brett Manning's singing forums, which have a substantial user base. A highly recommended resource.
Price
Buyer's TIp: You have an option of paying for Singing Success with an affordable payment plan at $28/month, which is a great option for anyone on a budget.
Conclusion
There's no question that anyone that wants to become a better singer will find Singing Success an incredible course to grow their abilities with. Additionally, when you consider the guarantee this product makes (and consistently delivers on), and the multitude of real life examples, we can't find a reason not to give Singing Success a try.
As far as we can tell, there's no course out there that simulates real life lessons this well, provides extremely high value and does so for so little. We highly recommend Singing Success!
Official Website
More Voice Lessons
Disclaimer Notice: We are an independent product review site and take great pride in the integrity or our reviews. In the interest of full disclosure we want our readers to be know that we do receive review copies of all lessons and software that we review on this site. We do also receive financial compensation in the form of commission on some, though not all products talked about on this site. Please note that we do not allow this to interfere with our editorial process.
Also, we should point out that we do not accept paid reviews in any way in order to keep an unbiased viewpoint. Lastly, we don't have any personal interest in the products we review, nor are we owned by any company whose products appear on this site. Thank-you for reading!