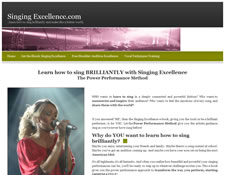 Singing Excellence
Rating:
Published By: Self Published, Seth Lutnick
Website: www.Singing-Excellence.com
Pricing: $27.00
For Skill Levels: Beginner-Intermediate
Official Website
Singing Excellence is an eBook written by Seth Lutnick that offers plenty of advice for both aspiring singers and even some of the more experienced ones.
Please note that Singing Excellence is not a "learn to sing" program, but an eBook that gives a lot of pretty good tips and tricks on how to sing and perform in general. We found that the topics covered in this book are really more performing tips than specifically singing tips. If this sounds intriguing to you, check out a sample chapter on their website.
Features
Singing Excellence is available as an eBook only. There's no audio or multimedia elements included as it's not meant to be an actual course. The eBook is 116 pages long, which due to the large font size used, could probably have been compressed to fit in 50-60 pages. It's not a long read, which is nice as it's very succinct and to the point. On the other hand, more detail is never a bad thing if it's not redundant.
It doesn't try and discuss any technical aspects of singing like most of the courses reviewed on this site does, but instead explores the many ways to become a more dynamic and professional performing artist. Some of the topics covered: Physical preparedness, how to use your hands, breathing, vocal health, stage fright, stage technique, among others. The material covered is actually pretty good, and Seth's Lutnick's writing style is quite engaging.
Guarantee/Support
Though Singing Excellence does not make a mention of this on their site, they do have a built-in refund policy that is taken care of by their payment processor. A full money-back refund is available for approx. two months.
If you have any questions about Singing Excellence, they do have an email address posted on their site.
Conclusion
Though maybe a bit overpriced, Singing Excellence's ebook makes a good reading supplement to the other singing courses reviewed on this site such as Singing Success or Singorama. If you're just wanting a good read on singing in general and not how to perform, you may do better going to your local bookstore and picking up a copy of Singing for Dummies.
Official Website
More Voice Lessons
Disclaimer Notice: We are an independent product review site and take great pride in the integrity or our reviews. In the interest of full disclosure we want our readers to be know that we do receive review copies of all lessons and software that we review on this site. We do also receive financial compensation in the form of commission on some, though not all products talked about on this site. Please note that we do not allow this to interfere with our editorial process.
Also, we should point out that we do not accept paid reviews in any way in order to keep an unbiased viewpoint. Lastly, we don't have any personal interest in the products we review, nor are we owned by any company whose products appear on this site. Thank-you for reading!