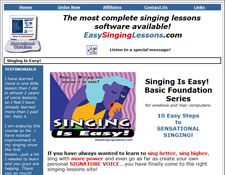 Singing is Easy
Rating:
Published By: Singing is Easy, Yvonne DeBandi
Website: www.EasySingingLessons.com
Pricing: $29.99
For Skill Levels: Beginner
Official Website
Singing is Easy! is a basic vocal course designed for those who want to get their feet wet as they venture into the world of singing. It was designed by vocal coach Yvonne Debandi who has been teaching music for almost 20 years and does professional vocal coaching.
If you are interested in a preview, you can see exactly the presentational format of the ebook on Singing Is Easy's website. Though it's not a completely comprehensive singing course, Singing Is Easy has a several attractive features, the main one being it's inexpensive price.
Features
The main component of Singing is Easy is its interactive flash-based eBook, which covers general topics such as how to create you own warm up routine, proper breathing techniques, how to get over vocal issues. It also provides a decent number of vocal exercises within it's 10 chapters.
Singing is Easy contains no video, but does have a lot of audio that you can play within the eBook. However, the audio is pretty much a repeat of what's said in the lessons text.
One problem we had with Singing Is Easy is that when you are playing audio from within the ebook, you can't pause the audio; Instead you must stop it all together and start over from the beginning if you're interrupted. It's worth noting that you can access the audio files separately from the ebook, but finding the exact file might be a bit of a challenge for most people.
Guarantee/Support
Singing is Easy has an unconditional 56-day money back guarantee provided by their 3rd party payment processor.
Yvonne does have a singers forum and a contact form available to her students. She also makes herself available for private lessons. Note that the forum is not very busy as it's still in its infancy, but hopefully will continue to grow.
Ease of Use
Downloading the course isn't a mammoth task, like it is when downloading other singing courses. The whole course is contained in only one zip file that weighs in at around 150mb.
Usage Tip: By default, the Singing is Easy ebook is pretty small to view properly, especially on larger screens. To scale up the ebook viewing area, select File Menu > View > Show All. Then you can resize the ebook and the text will scale properly. Unfortunately the images and diagrams within the lessons aren't scalable and appear fuzzy when scaled up, and doesn't look good on larger screens.
The flash-based software included with the Singing Is Easy course is compatible with both macs and pcs.
Conclusion
If you are on a super-tight budget, and need some basic advices and exercises to get you going,, go and check out Singing Is Easy. While there are several courses out there that are much better in terms of presentation and content, they also do come with a higher price tag.
Official Website
More Voice Lessons
Disclaimer Notice: We are an independent product review site and take great pride in the integrity or our reviews. In the interest of full disclosure we want our readers to be know that we do receive review copies of all lessons and software that we review on this site. We do also receive financial compensation in the form of commission on some, though not all products talked about on this site. Please note that we do not allow this to interfere with our editorial process.
Also, we should point out that we do not accept paid reviews in any way in order to keep an unbiased viewpoint. Lastly, we don't have any personal interest in the products we review, nor are we owned by any company whose products appear on this site. Thank-you for reading!