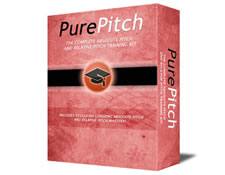 Pure Pitch Method
Rating:
Published By: Self Published, Ryan Cameron
Website: www.PurePitchMethod.com
Pricing: $97.00
For Skill Levels: Beginner-Intermediate
Official Website
The Pure Pitch Method is a downloadable course that teaches what you need to know about the aspects of absolute and relative pitch and how you can train yourself in obtaining these musical skills. What does perfect and relative pitch mean, you might ask? Well, if you possess relative pitch, you can tell how far apart any two pitches are from each other musically. Absolute pitch on the other hand, is the ability to identify notes without the help of other musical points of reference.
What the Pure Pitch Method does is give you a plan to train and educate your ear in the art of absolute and relative pitch. It's not an actual "learn how to sing" music course, but instead focuses more on ear training and musical theory. If you came here trying to find online singing lessons, there are other voice lessons we've reviewed on the right-hand side of this page.
Pure Pitch can be a bit technical and therefore require a bit more musical knowledge than the average Joe possesses, but if you're looking for a course to teach you relative and absolute pitch, chances are you that you're a bit more musically inclined than 90% of the population.
Features
After buying the course, it's immediately available to download from their members area. Now, downloading the Pure Pitch Method course can take a fair amount of time as you have to individually download over 40 separate files. The process can take a ton of time if you aren't blessed with a high-speed internet connection. It would have been nice if there would have been an option to download the course in several large zip files.
The course is made up of well organized .mp3 files with a large 120-page .pdf file that guides you through the exercises and also contains the answers to the exercises that you'll find in the audio lessons.
Audio quality was extremely clear, which explains the very high file sizes of the sound files. The audio itself was chopped up a fair bit in the editing process, and therefore doesn't sound all that fluid at times.
Practice Tip #1: Make sure you personally go through all the exercises as you work through the audio. If you get any of the questions wrong, go through them again a bit later. This will really help you get the musical concepts ingrained in your mind.
Practice Tip #2: If you want to develop your listening ear, it really helps to have an instrument such as a piano on hand, where you can try out the exercises out yourself. Hands-on experience can greatly speed up your progress.
Guarantee/Support
Pure Pitch Method offers a two month, unconditional money-back guarantee through their payment processor, which is the standard for downloadable digital learning products.
Pure Pitch staff can be reached via online form. When we had questions about their course, they were quite speedy to respond.
Ease of Use
Whether your operating system is a mac, pc or otherwise, you won't have problems using this course, since it is mainly comprised of .pdf and .mp3 files.
Conclusion
The Pure Pitch Method, while somewhat useful, is largely overpriced in my opinion. Still, there aren't very many courses out there that teach the material covered in the Pure Pitch Method.
If interests you, go ahead and try it out and see for yourself. With their unlimited-money-back guarantee you really don't have anything to lose anyway.
Official Website
More Voice Lessons
Disclaimer Notice: We are an independent product review site and take great pride in the integrity or our reviews. In the interest of full disclosure we want our readers to be know that we do receive review copies of all lessons and software that we review on this site. We do also receive financial compensation in the form of commission on some, though not all products talked about on this site. Please note that we do not allow this to interfere with our editorial process.
Also, we should point out that we do not accept paid reviews in any way in order to keep an unbiased viewpoint. Lastly, we don't have any personal interest in the products we review, nor are we owned by any company whose products appear on this site. Thank-you for reading!